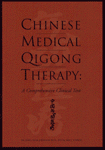 "Chinese Medical Qigong Therapy:
A Comprehensive Clinical Text"
by Dr. Jerry Alan Johnson

To order:
-Phone (408) 243-1565
-E-mail

Medical Qigong Classes
Overview: Medical Qigong Electives

Several courses are available for the Medical Qigong student who wishes to expand his or her knowlege base and application of Traditional Chinese Medicine. Some of these courses are required for certification, while others may be taken as "Individual Studies" or "Other Studies," as required to receive the desired certificate.
Because we are always changing and growing, new courses may be added and others deleted from time to time, so please check back regularly for updates.